[ [ Rebekah Michell ] ]
You're My Grim Goodbye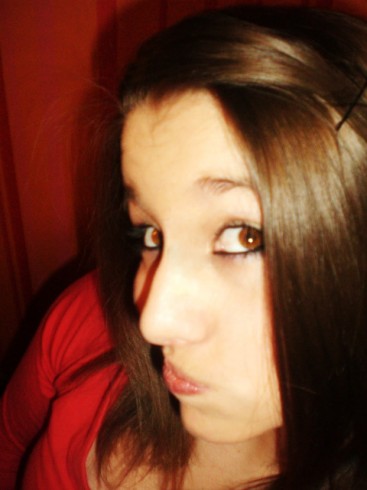 Top Friends
About Me
Rebekah Michell.

A brief introduction.

My name, Rebekah Michell and I am 17 years old.

I will be a Senior in High School and I plan on majoring in Graphic/Web design and a second major or minor in Photography.

I've been a graphics designer and web designer for a good five+ years now, my main focus on the graphics portion rather than the web design, but they tend to balance out evenly enough.

So yes, however young I may seem, I am very keen for my years. I have a few catches that get me here and there. Quirks if you please, but we all do dont we?

Pet peeves. Ahh, these things drive me crazy. But yes, a few things I cant help but hate include the following:

Mouth Noises- Chewing, Tongue Clicking, Gum, ect.

Nail Biting- Gross over all.

Anything Less than perfect on my part- An OCD of mine. Everything has to be particularly placed or done when I do something.

Procrastinating- Self explanatory

Running Late- Self explanatory

Spelling, Grammar, and Punctuation- IM and Text lingo drives me bizerk. You have english class, so pay attention.


And I suppose the list could continue. But I'll not draw your attention away from the main focus of the introduction.

I've visited cB for a while now, over a year, and I havnt found the time to join with my hectic schedule, but apparently I've found a lapse in time. This so called schedule consists mainly of the All-Star and High School cheer squads I'm on as well as my years in Gymnastics. I am very athletic and very competitive.

I do have an opinion and I am sure to entitle my right to it. However outspoken I may seem, I do respect others as I expect from them. I do have high standards in people, expectations if you please, but once you know me you'll find that I'm overly extactic and a generally crazy person.

Mmhmm, so much for brief right?
Eh, what can a girl do. I get carried away, like I said. I'm a writer.I bid you my adieu for the time being.
Pictures are up. I'm working on the profile and what not. Give me time.
| | |
| --- | --- |
| Name | Rebekah Michell |
| Gender | Female |
| Age | 17 |
| Location | Kansas City, MO |
| Ethnicity | White / Caucasian |
| Interested in | Men |
| Status | In a relationship |
| | |
| --- | --- |
| Music | alanis morissette, boys like girls, my chemical romance, the used, something corporate, flyleaf, thrice, three days grace, fall out boy, academy is, ellegarden, hawthorn heights, motion city soundtrack, plain white ts, the red jumpsuit apparatus, self against city, paramore, avenged sevenfold, acceptance, the almost, secondhand saranade, underoath |
| Books | twilight, in the forests of the night, dark to mortal eyes, the silver kiss, harry potter, an acceptable time, the wanderer |
| Quotes | "Life Inst Measured By The Number Of Breaths You Take But By The Number Of Moments That Take Your Break Away." |
Contact Me
Statistics
Recent Photos
Web Skills
HTML, CSS, PHP, Photoshop, ImageReady, Paint Shop Pro, Animation Shop